CLADE LAURASIATHERIA
ORDER PHOLIDOTA
PANGOLINS
Family Manidae: 7 species in the genus Manis.
Pangolins are also known as scaly anteaters or Old World anteaters. Living members of the family Manidae include 4 species in Africa and 3 species in India, South China and South East Asia including Malaya and the islands reaching eastwards. Once, 40 million years ago, pangolins lived in Europe. Pangolins are now placed in the clade Laurasiatheria; their nearest relations are believed to be carnivores.

Pangolins have small conical heads, reduced or absent outer ears, elongate bodies tapering to a stout tail. They are easily recognised by the coats of overlapping scales which protect their heads, bodies and the outer surfaces of their limbs and tails. They curl up in a ball when alarmed to protect their scale-less, hairy undersides. The name pangolin means 'one who rolls up' in Malay.
Pangolins' limbs are short terminating in five clawed digits; the three middle claws on the fore feet are long and curved. The claws are used to dig for food. Their tails are used as weapons - to thrash and wound predators. The scales also wound attackers. A Giant pangolin may encircle the limbs of an attacker with its tail or use it as a club. Males use their claws for fighting and defence.
Some species are adapted to an arboreal life style having small scales and long prehensile tails. Other species are adapted to a terrestrial burrowing life style having large scales, heavy tails and thick limbs. Pangolins are usually solitary. The female usually has one offspring which she carries on her tail. Arboreal pangolins carry the young from soon after birth. Terrestrial pangolins are born underground and are not carried on their mothers' tails until they are 2 -4 weeks old. The female protects her young by curling up around it.
All species of pangolins are highly adapted to obtaining and digesting a diet of termites and ants. They dig into termite and ants nests with the long curved middle claws on their fore feet and then probe for the insects with their long snouts and especially long narrow tongues covered with viscous saliva. The ingested ants and termites are ground up with sand in a specialised horny stomach. Thick eyelids protect their eyes from ants and special muscles close their noses when they are feeding.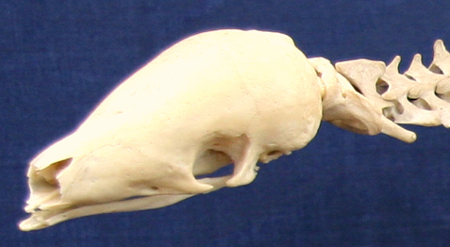 Skull of Manis gigantea, the Giant pangolin. This skull shows the very specialised, tubular-shaped, smooth skull of a pangolin. Pangolins' skulls are made of dense bone as a protection against predators. The zygomatic arch is incomplete and lacks the jugular bone. Their long snouts lack teeth; the narrow lower jaw lacks chewing muscles and is only a strut for the floor for the mouth. Pangolins have no dental formula as they have no teeth.

Skeleton and mounted Manis gigantea, the Giant pangolin. The Giant pangolin leads a terrestrial existence in the forests of West and Central Africa. It walks slowly on the edges of its fore feet with the claws curled underneath but can move more swiftly on its hind feet using tail to balance. The large claws are used to dig into nests of ground termites and ants and this species may eat 200,000 insects in a night. On this diet, the Giant pangolin can reach as much as 30 kg in weight. Its tongue is housed in a sheath, which extends to an attachment on the pelvis, and can be extended for 40 cm. The animal has huge salivary glands to produce vast quantities of saliva. Giant pangolins sleep in burrows: sometimes in other animals' burrows but they may dig their own very long burrows. Once curled in a ball, Giant pangolins are protected from all but the largest predators.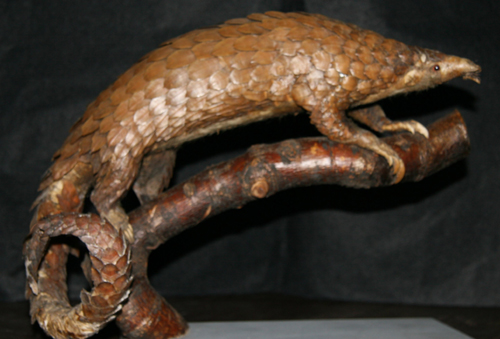 Manis pentadactyla, Chinese pangolin. This Asian species is a nocturnal and very shy species inhabiting a wide range of subtropical habitats, from open country with large termite mounds in Nepal, through Assam into all the provinces in South China. The Chinese pangolin is usually terrestrial and slow-moving but also an agile climber. It obtains its preferred food by opening up the mounds of subterranean ants and termites with its strong claws and probing for the insects with its long tongue which may reach up to 25 cm. Its claws are also used to dig burrows up to 3 metres long; once inside the burrow the pangolin blocks the entrance. Asian species differ from the small African species in having hair at the base of their scales.
---