CLADE EUARCHONTOGLIRES
ORDER SCANDENTIA
TREE SHREWS
Family Tupaiidae: 19 species in 5 genera.
Tree shrews are small, squirrel-like animals living in the tropical rain forests of South and South East Asia. Recent research indicates that their closest relations are colugos, primates, rodents and hares.
Tree shrews are omnivorous and diurnal. They are not especially well adapted to an arboreal life style and some are entirely terrestrial. Terrestrial species spend much time rooting in leaf litter with their snouts and hands catching a variety of small prey, mainly arthropods, with their mouths. They also feed on fruit, seeds and other plant material. Female tree shrews spend remarkably little time with their offspring, leaving them in a nest and visiting them to feed them only every one to two days. The mothers suckle the babies until they are bloated and then leave without even cleaning the babies.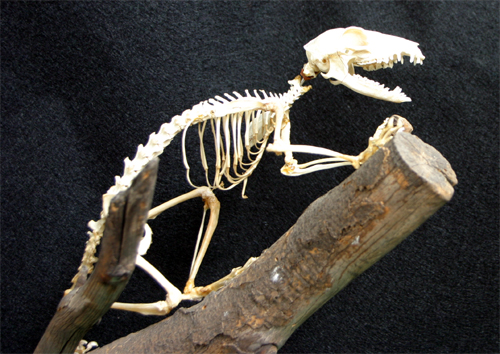 Our skeleton of Tupaia glis, the common tree shrew, shows that the animal had a small elongated body and long tail, with claws on all fingers and toes. Tree shrews use their well developed claws to root for insects.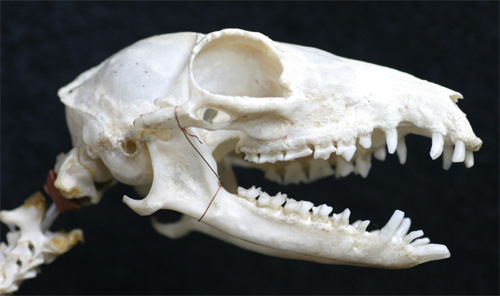 Tree shrews' skulls are broad due to the large protruding, sideways facing orbital cavities. Their dental formula is: I2/3; C1/1; P3/3; M3/3 =38. The canine teeth are poorly developed; the primitive cusped molars can grind up insects. The forward projecting lower incisors are used for grooming.
---