WELCOME TO THE MONOTREMES
CLASS MAMMALIA
SUBCLASS PROTOTHERIA
ORDER MONOTREMATA



WHAT IS A MONOTREME?
Monotremes are the only group of mammals that lay eggs, i.e. they are oviparous, laying one to three eggs. They have a single posterior opening, the cloaca, for excretion and reproduction. The name monotreme means one-holed.
Monotremes resemble other mammals in producing milk to nourish their young, in having three inner ear bones and a single bone in the lower jaw. Monotremes are highly specialized feeders and the adults have no teeth.

Like marsupials, monotremes have lower metabolic rates than eutherian mammals but they are still endothermic and can maintain their bodies at a constant temperature regardless of environmental temperatures. They are one of the only two groups of venomous mammals, shrews are the other group.
| | |
| --- | --- |
| Platypus | Short-beaked echidna |
There are only three species of monotremes in two families: the platypus (family Ornithorhynchidae) and two species of echidna or spiny anteater (family Tachyglossidae). We have specimens of the platypus (Ornithorhynchus anatinus) and the short-beaked echidna (Tachyglossus aculeatus).
Fossil monotremes are scarce. The oldest, estimated to be about 100 million years old, was found in New South Wales, Australia. Finding a fossil monotreme in Argentina suggested that monotremes once occurred across Gondwanaland (Antartica, Australia and South America). Today, monotremes occur only in Australia and New Guinea.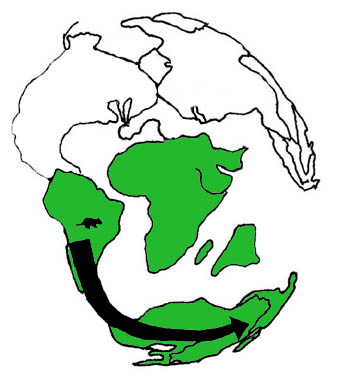 MAP OF THE WORLD
The southern masses (green) represent Gondwanaland