WELCOME TO THE MARSUPIALS




CLASS MAMMALIA
SUBCLASS THERIA
INFRACLASS METATHERIA
SUPERCOHORT MARSUPIALIA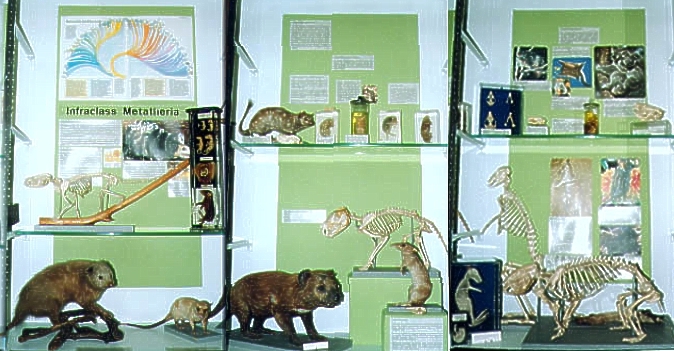 Marsupials (Metatherians) are one of the three groups of mammals living on the earth today; the others are the placental mammals (Eutherians) and the monotremes (Prototherians).
Notable differences between marsupials and placental mammals are:
the possession by marsupials of a pouch, the marsupium, in which to nurture the young


their skulls and dentition


the way they reproduce and their reproductive systems


Young marsupials are born very early in their development and make a perilous journey from the birth canal to the teats of the mammary glands, from which they suckle milk. Many marsupials, like kangaroos, have a well-defined pouch covering the teats and in which they carry their young. Some species only have a flap of skin to cover the teats.

Marsupials are believed to have diverged from placental mammals about 90 million years ago. Since then the two groups of mammals have evolved independently of one another. Marsupials used to occur throughout the world, but now only inhabit a few regions. The two maps below show the distribution of marsupials in the Late Cretaceous amd their present distribution. Most marsupials occur in Australasia, although some inhabit the Americas.

| | |
| --- | --- |
| Distribution of marsupials in the Late Cretaceous | Present day distribution of marsupials |
Although many marsupial species are now endangered due to the destruction of their habits and the introduction of exotic predators, populations of certain species have increased to the extent where they are now serious pests.

There is still no universal agreement on the classification of the marsupials. The 18 families of extant marsupials have recently been placed into two cohorts: Cohort Ameridelphia (the American marsupials) and Cohort Australidelphia (the Australian marsupials).

---