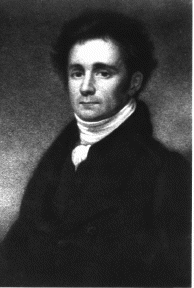 Robert Jameson succeeded Walker in 1804 only to be faced with the latter's family and trustees who claimed the collection as their own. They left Jameson with a fraction of the original collection of which he wrote,
"The remainder comprises of birds, serpents, minerals and the dresses and weapons of other nations, all in so decayed a state that I was forced to throw them out".
It has been said that Jameson was "happy only when fingering minerals" and indeed, accounts of his lectures would suggest he was a dour man, whom Charles Darwin spoke of as being "incredibly dull". The sole effect that Jameson's lectures produced on him was the desire,
"never as long as I lived to read a book on Geology or in any way to study the science".
However, it only takes a quick glance at Darwin's memoirs to understand that as a student in Edinburgh he had very little interest in lectures as a whole, preferring instead to read. Jameson was not the only lecturer to disappoint the young Darwin: "Dr. Duncan's lectures on Materia Medica at 8 o'clock on a winter's morning are something fearful to remember. Dr. Monro made his lectures on human anatomy as dull as he was himself".
Robert Christison and Edward Forbes seemed to be a little more understanding of Jameson's nature. Christison stated,
"lectures were numerously attended in spite of a dry manner, and although attendance on Natural History was not enforced for any University honour or profession. The popularity of his subject, his earnestness as a lecturer, his enthusiasm as an investigator, and the great museum he had collected for illustrating his teaching, were together the causes for his success".
(Attendance at lectures in this subject was not compulsory for medical students until 1833).
Edward Forbes, who was to be Jameson's successor, attended Jameson's course in the summer of 1832 and later in his memoirs he noted,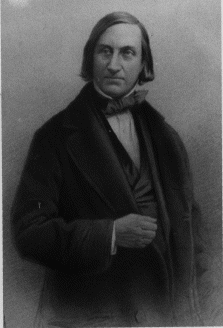 "The value of professorial worth should chiefly be estimated by the number and excellence of disciples. A large share of the best naturalists of the day received their first instruction in the science ... from Professor Jameson".



In the fifty years (1804-1854) that Jameson held the chair of Natural History, some 74,000 specimens were amassed for the collection. Jameson also did much to further the collection's reputation and its accessibility since he saw the museum as
"not a private department of the university but as a public department connected in some degree with the country of Scotland".
In 1812, what may be viewed as the second Natural History collection was given the title of 'Royal Museum of the University'.
Several methods were employed to acquire this enormous number of specimens. An occasional collection would be bought as a whole for the University, as was the collection of Louis Dufresne which was purchased at an auction in Paris for £2,500 in 1819. Individual specimens were bought from existing collections which could not be afforded as a whole. For example, Dr. Walter Adam made many purchases on behalf of Jameson and the University at the London sale of the William Bullock collection. Jameson, however, was most upset upon the arrival of the Bullock collection in Edinburgh. Dr. Adam knew little about the Professor's requirements and had had to rely on his instincts and the advice of other bidders. There were of course no telephones at this time which meant that each day's bidding was related by letter and in a moment of doubt over one day's buying Dr. Adam confesses,
"... Today I have perhaps too many monkeys".
A sentiment that Jameson wholeheartedly agreed with when he first saw these specimens. He referred to them always as his
"...vile baboons".
As well as making purchases, Jameson compiled what he called a 'Set of Instructions for Collectors', which was distributed among the different ministers and public servants abroad in the hope that they would collect specimens and send them to the University. He issued his instructions to those he knew were about to travel, one of whom was William Scoresby (junior) who collected among other things a live polar bear for Jameson whilst voyaging in the search for the North West Passage to the Pacific Ocean. Jameson suggested many methods of preservation and preparation in his instructions which must have seemed highly dubious to the uninformed layman. He suggested that the skin of birds and quadrupeds could be preserved by rubbing on to them a composition of tanners' bark, burnt alum, sulphur and tobacco. Also, fish and reptiles were to be preserved in spirit such as whiskey, a little of which should be injected into the stomach by the mouth and into the other intestines through the anus.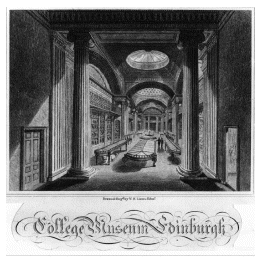 As well as Jameson's great achievements in amassing such an impressive collection he gained enough support from the University Authorities, the Edinburgh Town Council and the Commissioners for the College Buildings to get their permission to re-house the collection twice in better, larger premises. The first time was in 1826 when the Royal Museum of the University moved into the then newly built University Quadrangle rooms in what is now known as 'Old College' on South Bridge. These rooms are currently occupied by the Talbot Rice Arts Centre but the structure of the rooms remains more or less that of Jameson's day with a large central room framed with an upper gallery for holding smaller specimens.

In 1852, Jameson submitted his second appeal to the Treasury for more extensive housing. But this time he suggested that the collection should be placed in the hands of the nation and should be housed in a new national museum to be built in Chambers Street, next to the University buildings. In 1854, the year of Jameson's death, Parliament sanctioned the proposal and work began. This 'new museum' was initially called the Museum of Science and Art, subsequently the Royal Scottish Museum and is now the Royal Museum.